Taking product upgrading as an entry point Weichai Lovol makes continuous breakthroughs on overseas rice combine harvester business
In recent years, Weichai Lovol makes continuous optimization and improvement on outlook design and quality of rice harvester series products to meet terminal customers' requirements. In 2020, the new RG series rice harvesters were launched. The series products win customers' trust for the technical outlook design, reliable configuration, and stable performance. At the same time, Weichai Lovol makes an In-depth localized operation, improvement of dealing and service network and finical service. All these efforts help Weichai Lovol gradually to win the market. In 2020, the export volume of rice combine harvester still increased substantially in the context of the global fight against the epidemic.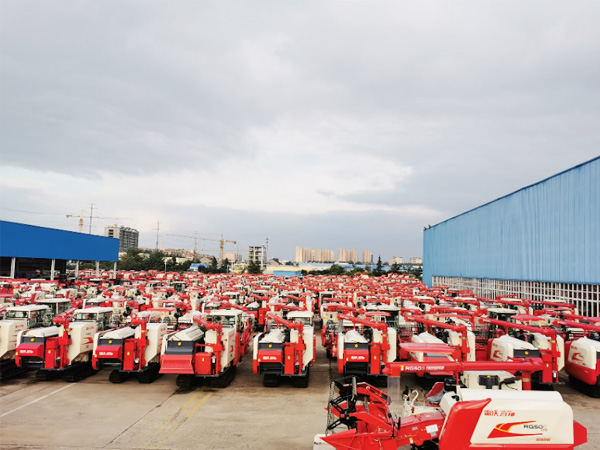 Myanmar, Indonesia, and other south-east Asian countries are the main export market for Weichai Lovol rice harvester. As gradually expanding the international effect, Weichai Lovol gradually enters the market of South America, South Asia, the Middle East, Africa, and other places. Even some Oceania countries come to seek cooperation with Weichai Lovol.
"We aim at customers' satisfaction." Weichai Lovol always takes customers' requirements and satisfaction as important judgment metrics on business operation. The experiential marketing model is also gradually promoted in the global market. This is a marketing model that combines customer experience and customer communication. This model is almost one-to-one high efficient communication way, making customers have a comprehensive understanding of the company's value and products, and act as a catalyst in the entire market promotion. A series of measures, such as the practice of business philosophy and an innovative terminal promotion, are important and steady development support for Weichai Lovol's overseas business for many years.
Weichai Lovol's product image is gradually improved among global customers, and Weichai Lovol's products are good samples of high quality and cost-effective "Made in China." In the future, Weichai Lovol will continue to deepen the global industrial layout to provide reliable and high efficient products and services and support local industry upgrading and economic development.